Christmas Shopping in London 2016 Part 1
08:35
Days are counting down. Christmas eve is coming soon. There's nothing more festive as London at Christmas time. There're so many reasons and choices to spend your christmas holiday in London. Christmas London is a joy of shopping. There're a lot of things to buy here.
SHOPPING
Christmas Market at Tate Modern
Pretty wooden chalets will fill the space between the Tate Modern and the Thames for a third year in 2016 for this traditional Christmas market. Browse handmade wooden toys, accessories, intricate decorations and plenty more, then tuck into festive food and warming cups of glühwein. A Victorian carousel and festive music help add to the Christmas spirit.
It's held in Bankside at the Tate Modern, London, SE1 9TG.
There's no fee entrance.
You can come here at Dec 22 & 23, 2016 at 11.00 am.
For further info, visit Xmas Markets.
Southbank Centre Winter Festival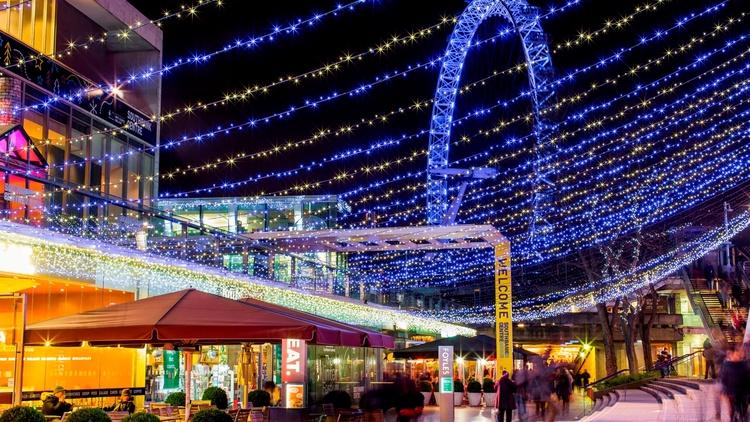 Credit to: Jason Alden
The Southbank Centre Winter Festival returns for 2016 and along with its array of festive shows and performances they will also be celebrating the coldest season with a fistful of fun pop-ups and activities. NoFit State will be bringing contemporary circus to the stage with 'Bianco' performed above, behind and around the audience (Nov 23- Jan 22), plus Christmas will get a rock 'n' roll makeover thanks to the 'Million Dollar Quartet' musical packed with tunes by Elvis Presley, Johnny Cash and Jerry Lee Lewis (Dec 17-Jan 2). The annual Christmas market will be back and better than ever, and Bump Roller Disco will be offering family-friendly skating and club nights.
It's held in Southbank Centre, Belvedere Rd , London, SE1 8XX.
There's no fee entrance.
You can come here at Dec 22, 2016 - Jan 10, 2017 at 11.00 am.
For further info, visit South Bank Center Winter Festival.
Christmas in Leicester Square
Credit to: David Jensen
Santa called – he's added another date to his schedule: Christmas in Leicester Square, the capital's latest Crimbo destination for 2016. 'The 'square' in Leicester Square is home to a grotto, traditional Christmas market and a vintage Spiegeltent – a velvety, wooden venue home to a stocked programme of Christmas shows brought to you from the Underbelly team, including Ursula Martinez, The English Gents, Hamish McCann's pole act, Denis Lock's bubble act and the world famous La Soirée circus.
It's held in Leicester Square (Smack in the middle of central London's Leicester Square).
There's no fee entrance but you should buy tickets for selected events, including Santa's Grotto and La Soirée performances.
You can come here at Nov 11, 2016 - Jan 8, 2017, 2016.
The Christmas Forest
Every tree sold at these pop-up forests springing up in the capital will result in another tree being planted in the drylands of Africa via the Charity Tree Aid. This year they hope to hot their 200,00th tree, helping to re-green environments and improve the lives of families living in Ethiopia, Burkina Faso and Mali. Ten forests will be selling trees, holly, mistletoe and wreaths across Dulwich, Stoke Newington, Highbury, Lavender Hill, Finsbury Park and other parts of London with a delivery service available. Check dates and locations via
the Christmas Forest website
.
The price is starting at £15.
You can come here at Dec 22 - 24, 2016 at 08.00 am.
For further info, visit The Christmas Forest.
Hyde Park Winter Wonderland
The Grinch would have a real job stealing all the Christmas from Hyde Park's massive tribute to festive fun, which is back for a tenth year in 2016. Entry to Winter Wonderland is free, and a wander past the fairground rides, around child-friendly Santa Land (including Santa's grotto) or through the Christmas markets is a real treat for anyone feeling the spirit of the season, as long as you're ready to hear all those songs as you potter.
Other attractions at Hyde Park's annual sparkly Christmassy addition include two circuses – ' Zippos Christmas Circus' and 'Cirque Berserk'. Winter Wonderland's ice rink, the biggest outdoor rink in the UK, surrounds the Victorian bandstand and is illuminated with more than 100,000 lights. 2016 also sees a new family-friendly 'Sooty Christmas Show' with Sweep, Soo and TV's Richard Cadell all making appearances.
This year the Magical Ice Kingdom presents an 'Arctic Adventure' complete with icebergs, shipwreck and a polar bear palace. It's your chance to get up close to some real ice and snow, go fishing with the Inuits and have your photo taken with a giant white beast. Along with the 60-metre observation wheel, rollercoasters and fairground rides will keep thrill seekers happy. A good alternative for those who prefer to stay on solid ground are the selection of themed bars with real fires, except for the Ice Bar (for obvious structural reasons) where even the glasses you drink from are made of ice.
If you're skating, be aware that while there's no minimum age for skaters, under-12s must be accompanied by someone 16 or over and the smallest skates for hire are children's size 9 (adult skates go up to size 13). You can use your own skates as long as they're not speed skates. Wheelchair users are welcome on the ice. There are also ice guides who can look after groups of up to 15 skaters at a time (for an additional charge).
It's held in Hyde Park, London, W2 4RU.
There's no fee entrance.
You can come here at Dec 22, 2016 - Jan 2, 2017 at 10.00 am.
For further info, visit Hyde Park Winter Wonderland.
Real Food Christmas Market
The festive edition of the Real Food Market will be bringing tasty snacks and tempting treats to the square just outside King's Cross St Pancras station in 2015. Stalls will be offering up a selection of sustainably and ethically produced fine foods but with extra added seasonal goodies. Pick up continental cheeses, Christmas puddings, cured meats and hampers for your hungriest family members, while you tuck into ready-to-eat snacks. Traders include The Borough Cheese Company, The Flour Station, Cannon & Cannon and The Scottish Kitchen.
It's held in Hyde Park, London, W2 4RU.
There's no fee entrance but you should spend the money if you wan to buy some foods.
For further info, visit Kings Cross Real Food Market.
The Islington Christmas Market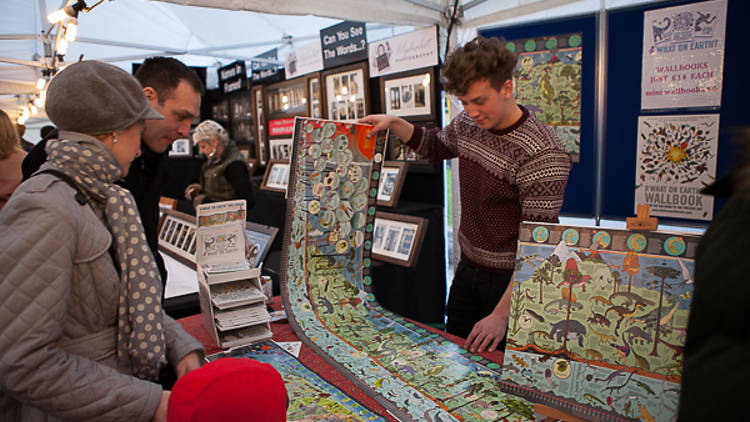 Credit to: Mirco De Nicolo
Now in the Angel shopping centre, this market has a handful of stalls selling gifts, crafts, food products and plenty more, with a new trader being introduced each week. The market has been going strong since its first Christmas five years ago. Entry is free.
It's held in Angel Central, 21 Parkfield Street, London, N1 0PS .
There's no fee entrance.
You can come here at Dec 24, 2016 at 10.00 am.
For further info, visit Islington Christmas Market.
London Bridge City Christmas Market
This annual market returns 2016, with a winning combination of homemade gifts and delicious food, sold from German-style chalets. Get your mitts on handmade crafts from over 100 independent traders and peruse pop-up food stalls and bars serving Christmas cocktails, mulled wine, hot cider and craft beers. Film screenings, live music and entertainment will also feature.
It's held in More London Riverside, London, SE1 2DB.
There's no fee entrance.
You can come here at Dec 24, 2016 - Jan 3, 2017 at 10.00 am.
Hackney Flea Market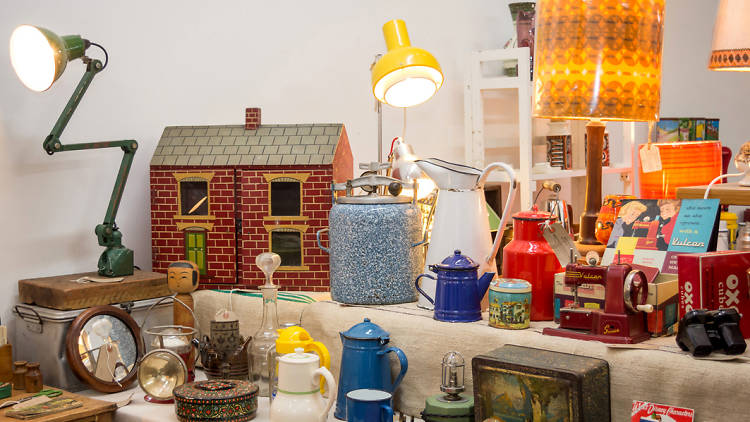 Credit to: Sofia VIllanueva
This Stoke Newington institution returns to Abney Hall. There'll be over 30 traders, offering an eclectic selection of vintage clothes and furniture, handmade jewellery, comics, records and antiques. As ever, there'll be an array of delicacies available at the on-site café, with DJs providing the tunes.
It's held in Abney Hall, 73a Stoke Newington Church St, London, N16 0AS.
There's no fee entrance.
You can come here at Jan 7 - 8, 2017 at 11.00 am.
For further info, visit Hackney Flea Market.
Christmas Shooping in London 2016 Part 2
Christmas Shooping in London 2016 Part 3
Source: Time Out